|
Daily Newspaper and Travel Guide for Reeves County, Trans Pecos, Big Bend of West Texas
OPINION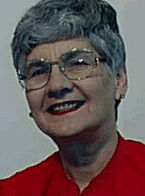 <!=====paste copy here==========================>
Opinion
Tuesday, January 20, 1998
SQUARELY
PEGGED

By Peggy McCracken
Service offers birthday greeting reminders
Just as I remembered Friday morning I hadn't wished my
husband "Happy Birthday" before I left the house, here comes
a press release about a gift service that will prevent such
memory lapses.
I'm not the only one having memory troubles. "It seems baby
boomers are losing their minds," the release out of Westlake
Village, Calif., begins..."Some blame age, others say it's
hormones. Most likely, it's because we're `jammin.' Busy,
exhausted and overloaded, we're letting our nonwork lives
slide, putting personal in the backseat."
Wow, what a relief! I thought my clogged arteries were
starving the brain of oxygen required for thinking and
recalling what just happened five minutes ago.
And I'm relieved to know somebody out there had me in mind
when they created a free birthday reminder service. All you
have to do is make a list of people you want to remember on
their special day, including their birthday so the gift can
be tailored to their age. Then, three weeks before the
birthday, you will receive a reminder with gift suggestions
tailored specifically to the child's age and interests. (Or
husband's age and interests.) You select a gift and the
company takes care of the rest.
They will send the gift to the giver's home, office or
directly to the recipient's doorstep. It will be gift
wrapped and a card with a personalized message included.
That is, if you want to purchase from this company. You
don't have to - you will still get the reminder.
This is not a promo for the company, so I'm not including
their name or phone number. I suppose anyone interested in
such a service could find more than one on the Internet.
Yes, there's that dread word again. Some of my faithful
readers have quit me because I write so much about computer
stuff, so I am trying to avoid it. That's not easy, since
that's about all I do at work now.
My husband complains when I write about personal stuff, so
what do I write about? If I write about someone else, they
are likely to quit reading the paper altogether. I've about
exhausted my Flomot stories. Guess I'll have to take another
vacation so I can write about that.
"Discretion will protect you, and understanding will guard
you." Proverbs 2:11, NIV.
EDITOR'S NOTE: Peggy McCracken is a writer and webmaster
whose column appears each Tuesday.
Critic's Corner
Unusual Texas tales offered
Did you know that Gail Borden, the inventor of condensed
milk, was a member of an 1833 Texas delegation to Mexico
that advocated defending their rights by force of arms if
Mexico did not right their grievances? Or that Borden
founded the Telegraph and Texas Land Register, the first
newspaper in Texas?
Or that Jefferson Davis began the "Great Camel Experiment"
in Texas as early as 1851?
Theses stories and many more can be found in "A Treasury of
Texas Tales" by historian Webb Garrison and published by
Rutledge Hill Press at $9.95 (211 Seventh Ave., North
Nashville, Ten. 37219-1823).
If you are just beginning to get interested in Texas history
or you are an avid fan of the Lone Star State, you will find
this book interesting reading.
Other stories about people who influenced Texas include: how
Lady Bird Johnson bought a small radio station and made
110,000 percent profit on it and the story of "the Betsy
Ross of Texas."
Garrison writes in an easy to read conversational style
compatable with readers of most ages.
Garrison is a former associate dean of Emory University and
president of McKendree College who now lives in Lake
Junaluska, N.C. He has written more than 50 books, including
A Treasury of Civil War Tales and Civil War Curiosities.
By Rick L. Smith <!==========end copy==================>
---
---
Pecos Enterprise
Mac McKinnon, Publisher
Peggy McCracken, Webmaster
Division of Buckner News Alliance, Inc.
324 S. Cedar St., Pecos, TX 79772
Phone 915-445-5475, FAX 915-445-4321
e-mail news@pecos.net
Associated Press text, photo, graphic, audio and/or video material shall not be published, broadcast, rewritten for broadcast or publication or redistributed directly or indirectly in any medium.


Copyright 1997 by Pecos Enterprise
We support
---