|
Daily Newspaper and Travel Guide for Reeves County, Trans Pecos, Big Bend of West Texas
OPINION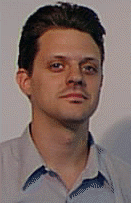 <!=================paste copy here==========================>
Wednesday, January 14, 1998
LOOSE FISH

By Greg Harman
Drug abuse often a by-product
A few nights ago I got a phone call. And though it was late
at night I took it anyway. Usually I let the machine field
these calls for me and return them the following day. It was
a high school buddy on the other end of the line, calling
from his new home in Minnesota to tell me all about his life
there and how things had improved since last I had seen him.
He wanted to let me know where he was staying and how I
could reach him. I was really glad I had gotten out of bed
and really enjoyed hearing about his change of lifestyle.
Only one thing bothered me the following morning about the
conversation, the very friend who had telephoned me the
previous night had in fact died several weeks before in a
drug overdose while celebrating the fact that he had just
gotten off of probation from previous drug charges. The
entire conversation had been a dream. His life had not
improved, it had ended.
As someone who has been close to the music scene for several
years in various parts of the country, this recent drug
overdose wasn't the first I have witnessed and they are
never easy.
Kids seem to be turning to drugs earlier and earlier even as
awareness and education as to their inherent dangers is on
the increase. I receive information in the mail all the time
from interest groups claiming rising drug use.
Tuesday the paper published a letter from Terry Fay
Bleier, executive director of the Texas Commission on
Alcohol and Drug Abuse. Bleier voiced her concern over the
growing popularity of heroin despite the risk that increased
potency poses to old users and first-timers alike. She
recorded a total of 16 heroin deaths in the first nine
months of 1997 in the Dallas-Fort Worth area. What in the
world could be at the center of this trend? (Besides
Tarentino and Calvin Klein, that is.)
Other items in the news recently report on kids using
mercury and formaldehyde to get high. This type of behavior
seems well beyond the paint-huffing reports of the
mid-eighties, but in the end it all boils down to the same
question. Why?
This is one extremely difficult and complex question to
answer as I'm sure anyone in the field of prevention would
agree. But one common thread I have noticed in most alcohol
and drug addicts has to do with their early experiences
growing up in dysfunctional and abusive homes. This in no
way accounts for all drug abusers, there will always be
those cases where a person who apparently had everything
going for them turned out to be an addict. But, I believe
abuse accounts for the majority of drug abuse cases.
This is one reason I was so happy to hear that Caprice Cox,
the director of Reeves County Community Council, is
investigating the possibility of opening a center for
domestic violence. I will always believe that people are our
number one resource and that they must be respected and
cared for as such.
Studies have shown that the most glaring difference between
delinquent and non-delinquent youth is a history of family
violence. And one of the most prominent activities of
delinquent youth involves drugs and alcohol. I'll let the
reader draw their own conclusions from that.
Other surveys find that 56 percent of all Americans say that
they have at least one friend, relative or co-worker who
they know has been involved in domestic violence - with just
under four million women physically abused by their husbands
in 1996.
I'm sure most of our readers read Cara's report, or have
seen the posters, of the missing Lora Brooks who had been
staying in a trailer north of town with her boyfriend. I
felt guilty for suspecting her boyfriend without knowing
anything about the case until I read the following
statistic: 42 percent of women murdered in this country are
murdered by their husbands or boyfriends.
Teenage is one of the toughest of times. It's when many will
figure out who they are and what their relationship with the
world at large will be. It shouldn't surprise anyone that
when a child's home isn't the safe place that it should be,
these kids will look for that comfort somewhere else,
oftentimes finding it in drugs and alcohol.
EDITOR'S NOTE: Greg Harman is an Enterprise Writer whose
column appears each Wednesday. He can be e-mailed at:
greg@pecos.net
Your View
Surfer enjoys web page
Dear Editor:
Hi, my name is Ralph Tarango, I am writing to you from
Hawaii. I was born and raised in Pecos and a graduate from
Pecos High. I left Pecos as soon as I graduated, but there
have been many days that I would wonder how everything was
going in Pecos. Now thanks to your web page I can keep up
dated. I want to say thanks and keep up the good work.
Ralph Tarango <!=============end copy===============>
---
---
Pecos Enterprise
Mac McKinnon, Publisher
Peggy McCracken, Webmaster
Division of Buckner News Alliance, Inc.
324 S. Cedar St., Pecos, TX 79772
Phone 915-445-5475, FAX 915-445-4321
e-mail news@pecos.net
Associated Press text, photo, graphic, audio and/or video material shall not be published, broadcast, rewritten for broadcast or publication or redistributed directly or indirectly in any medium.


Copyright 1998 by Pecos Enterprise
---