|
Daily Newspaper and Travel Guide for Reeves County, Trans Pecos, Big Bend of West Texas
OPINION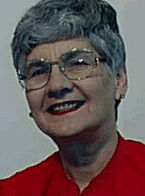 <!=====paste copy here==========================>
Opinion
Tuesday, January 13, 1998
SQUARELY
PEGGED

By Peggy McCracken
Selling cookies teaches children responsibility
"The kid's got a great arm and a good bat," says a coach
watching a Little Leaguer at the plate.
"Yea. But can he sell candy?" quips the assistant coach in a
cartoon included in the little book "Sports Life" by J.
Ennis Kirkland.
Maybe it is an unrelated sideline of amateur sports, but
fund raising is important to every volunteer organization.
Pushing Girl Scout cookies or taking orders for smoked
turkeys is a good way for youngsters to learn how to
approach people and interest them in their product.
Unfortunately, most of the kids I see out going door-to-door
don't know the first thing about selling. They may stick out
an order form and ask, "Do you want some cookies? (or candy
or turkeys)" No, I don't. And when it is the Mama or Daddy
pushing his kid's wares, it is a double No. That is not
teaching the kid anything, except that he can't handle his
own affairs.
Yes, I have bought merchandise from school kids. Johnny
Miller comes to mind. He could sell snow skis to a camel
driver. We ate smoked turkey for three months after I
succumbed to Johnny's sales spiel. He made me think my life
just would not be complete without that scrumptious 20-pound
turkey, cooked to a turn. It was good, but I haven't wanted
a slice of smoked turkey in the 20-plus years since.
My kids probably got points knocked off their school grades
because I refused to let them badger the neighbors to buy
stuff. And they probably missed an education in dealing with
people that might have come in handy later. I'd do the same
thing again, though. Even more so now, with all the meanness
going on. I don't think it's safe for kids to be going
door-to-door. And Mom's office is no place for them either.
What is the solution? Maybe it's not feasible in this modern
age, but what's wrong with playing sandlot baseball where
the kid who owns a bat brings it, another contributes a ball
and everyone shares their gloves. Girls used to enjoy
playing jacks, skipping rope, playing hopscotch. Don't they
do that anymore?
Fortunately, our family was big enough that we could
organize our own teams and play football, baseball, run
track, high jump or throw a rag basketball through a
bottomless bucket nailed to the porch. And when another
large family came over for a Sunday afternoon, we really
tore up the bases. We didn't wait for our parents to
organize a league for us to play in. We just played. Often
our parents played with us, an extra bonus.
How did I get off on this subject? Well, it's Girl Scout
cookie time and someone was making the rounds in the office
today with an order form. We got to talking about what it
was like when we were Girl Scouts. Dolores Montoya said they
didn't have order forms when she was a Scout; they carried
the cookies with them and sold them directly. (They didn't
have Girl Scout cookies when I was that age. I'm not even
sure they had Girl Scouts.)
By the way, the book I borrowed that cartoon from is not
very interesting. If someone comes knocking on your door and
offers it to you for a few measly bucks, say No.
"Whoever turns a sinner from the error of his way will save
him from death and cover over a multitude of sins." James
5:20, NIV.
EDITOR'S NOTE: Peggy McCracken is a writer and webmaster
whose column appears each Tuesday.
Your View
Help needed to stamp out heroin usage
To The Editor:
We need your help. A total of 16 young people and adults
have died over heroin overdoses in the Dallas-Fort Worth
area the first nine months of 1997. The youngest victim was
13-years-old. Many of the victims from Plano, a prosperous
suburb north of Dallas, were under age 20.
While many parents feel like "it can't happen in my
community," we fear this trend is going to spread to other
areas of Texas. We have two enemies: the international drug
market and public ignorance.
These are the facts. The quantity of heroin being shipped to
the United States is increasing. The purity of the drug is
up and the price is being dropped as a stategy to win new
customers. And that means overdoses and fatalities among
misinformed, young users are going up as well.
Federal and state law enforcement agencies tell us drug
dealers are deliberately targeting teens and young adults
from the suburbs, telling them heroin is not addictive when
it is snorted or smoked.
We need your help to get this message out to young people
and their families: Heroin is back. Heroin is addictive.
Heroin kills.
It doesn't matter how you take it, heroin is dangerous and
it can be fatal.
Terry Fay Bleier, CPA
Executive Director
Texas Commission on
Alcohol and Drug Abuse
Your View
Reader finds surprise during net search
To The Editor:
I did a net search on "Van Deren" and came up with your
newspaper. Boy, was I surprised. There was the Aug 25, 1997
edition and my husband's great grandfather, B.W. Van Deren
or Benjamin Walker was quoted in the 1916 paper about his
alfalfa crop.
My in-laws were just in Pecos a few months ago to visit the
Balmorhea cemetery and visit his cousins, Mildred and Alan
Hoefs who live in Pecos.
Thank you for a nice surprise.
Marcie Van Deren
Kalispell, MT
rmhc@digisys.net <!==========end copy==================>
---
---
Pecos Enterprise
Mac McKinnon, Publisher
Peggy McCracken, Webmaster
Division of Buckner News Alliance, Inc.
324 S. Cedar St., Pecos, TX 79772
Phone 915-445-5475, FAX 915-445-4321
e-mail news@pecos.net
Associated Press text, photo, graphic, audio and/or video material shall not be published, broadcast, rewritten for broadcast or publication or redistributed directly or indirectly in any medium.


Copyright 1997 by Pecos Enterprise
We support
---