|
Daily Newspaper and Travel Guide for Reeves County, Trans Pecos, Big Bend of West Texas
OPINION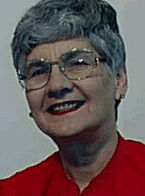 <!=====paste copy here==========================>
Opinion
Tuesday, January 6, 1998
SQUARELY
PEGGED

By Peggy McCracken
Pastor created an idea for reading the Bible
Ron Garcia, pastor of Calvary Baptist Church, has come up with an idea that deserves attention: creating an interest in reading the Bible during 1998.
The fact that so many believe the end of the world is near prompted an El Paso man a few years back to grow concerned for unbelievers. Out of his concern and fervent prayer grew a "Year of the Bible" in 1997. Not only did the El Paso Times print a daily Bible reading, Christians banded together to purchase paper-back New Testaments to give away in convenience stores and through a telephone hotline.
Bro. Garcia thinks Pecos could use that type of campaign. It may be a little late to get it off the ground for 1998, but we have to start somewhere. I am making it my New Year's Resolution to spend at least five minutes a day reading the New Testament, with the goal of reading through it this year. Will you join me?
You may think starting with the New Testament would be getting ahead of the story, but it is best to know about Jesus and the purpose of his coming into the world before you try to understand what is happening in the Old Testament.
I've been involved in some "read the Bible through" efforts, and have often heard the complaint that people get bogged down in the "begats" that introduce the New Testament.
If you're one of those people, you might try a different method this time. Instead of plowing through the four Gospels - Matthew, Mark, Luke and John - start with John, then read through the rest of the New Testament. When you get to Revelation, skim right on through without trying to understand everything about the end times that are described.
Seasoned believers who want to read the entire Bible this year may want to read three chapters from the New Testament, then turn to the Old Testament and read three chapters. It is sort of in chronological order, beginning with the creation of the world, chronicling the life and times of God's chosen people, the Israelites (Jews), the ancestors of Jesus.
Wherever you start and however much you read each day, it is the regular schedule that keeps you progressing through the word and in daily contact with the Word Himself.
"In the beginning was the Word, and the Word was with God, and the Word was God. He was with God in the beginning." John 1:1-2, NIV.
EDITOR'S NOTE: Peggy McCracken is an Enterprise writer and webmaster whose column appears each Tuesday.
Your View
Police chief candidate opposed by readers
To The Editor:
If the City Council makes Clay McKinney Police Chief why should we follow the law?
Clay McKinney was with Edward Tersero when they drove by our house and fired two gunshots into our house while our children were sleeping inside. Both of them were Pecos City police officers.
Edward Tersero was sent to federal prison. Clay McKinney said he was so drunk he didn't know what he was doing and they let him go. McKinney went to work with Hal Upchurch doing reverse stings on dope deals and Upchurch was prosecuted by the Attorney General's office.
Later, in another case, a federal court jury in Pecos found that Clay McKinney conspired to offer perjured testimony to convict a man and deprive him of due process of law. What kind of example is this to our community? Clay McKinney should not even be in law enforcement and the City Council is going to make him Police Chief this Thursday.
Luis and Connie Esparza
EDITOR'S NOTE: To clarify statements made in the above letter:
Clay McKinney was a police investigator at the time of the shooting 10 years ago. He admitted he was in the vehicle with Edward Tersero - who served a nine-month prison term for violating the Esparza's civil rights - but claimed he was asleep. McKinney later became an investigator for the 143rd District Attorney's office, where he participated in "reverse sting" drug operations that targeted large drug dealers. An attorney general's investigation of those operations resulted in a misdemeanor conviction of District Attorney Hal Upchurch and one of his investigators. McKinney was not charged with any criminal violation. One of the drug dealers caught in a sting, Bubba Doyle, later filed a civil suit against McKinney, claiming McKinney conspired to offer perjured testimony at his criminal trial. That testimony, by attorney Ted Painter, concerned an alleged threat made by McKinney to Doyle. A federal court civil jury found that McKinney did conspire to offer the perjured testimony and awarded the plaintiff $30,000 damages. However, that award was overturned by an appeals court. On Thursday, the city council will name a new City Police Chief from five final candidates during their regular council meeting.
<!==========end copy==================>
---
---
Pecos Enterprise
Mac McKinnon, Publisher
Peggy McCracken, Webmaster
Division of Buckner News Alliance, Inc.
324 S. Cedar St., Pecos, TX 79772
Phone 915-445-5475, FAX 915-445-4321
e-mail news@pecos.net
Associated Press text, photo, graphic, audio and/or video material shall not be published, broadcast, rewritten for broadcast or publication or redistributed directly or indirectly in any medium.


Copyright 1997 by Pecos Enterprise
We support
---